10 Most Expensive Homes for Sale in Vancouver Right Now
BEHOLD: Top 10 most impressive, most AWESOME Homes for Sale in Vancouver right now
Which of these 10 amazing homes for sale in Vancouver is your favourite?
The Top 10 Most Expensive Homes for Sale in Vancouver right now. Vancouver has many high-end luxury real estate listings. Whether you are actually searching for one of these luxury homes yourself or just wanting to catch a glimpse of Vancouver's mega-mansions, you came to the right place. Right in our own backyard, these "mega-mansions" are truly impressive and works of art. If you enjoy watching HGTV, then you'll love looking at these luxury homes. Try not to let your jaw hit the floor! Call me when you're ready to make an offer… 🙂
Why should we be surprised that the number 1 spot is occupied by this magnificent home in Kitsilano. This luxury waterfront home boasts spectacular ocean and downtown city views as you can see above. Who wouldn't want to wake up in the morning and have this view to start their day. I'll take it! It's situated on 12,297 of prime waterfront in the "Golden Mile" area on Point Grey Road. If you can pull yourself away from the view, the home has 6,857 square feet, six bedrooms, five bathrooms, with walkout terraces and an incredible garden.
Nearby you will find this spectacular house number 2 residing in Point Grey. The house itself is spectacular, the gardens remind me of Versaille for some reason. But, I had to share the picture above showcasing that amazing indoor pool and spa. If you didn't know how to swim when you buy the house, you certainly would after a few weeks.
This home has it all, breathtaking gardens, a beautiful ocean view, an indoor theatre. Italian marble floors, your office right beside that beautiful pool. Seven bedrooms, 8 bathrooms, panoramic ocean and mountain views. What is it missing, nothing!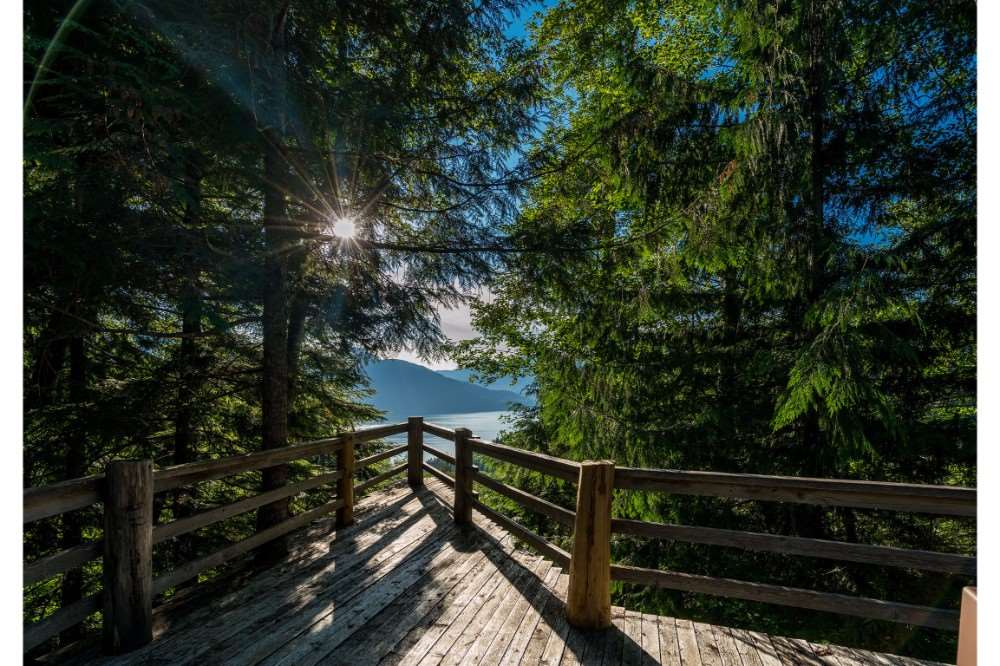 You have to travel a little bit further to find number 3! But the extra effort is worth it. I haven't made it inside the house yet because I'm stuck at the lookout. Actually, go on without me, I'm going to stay outside for a while.
I don't think I saw any neighbours on the ride in. If you want privacy, luxury and you love the great outdoors, well, let me prepare that offer for you. Fawn Bluff includes 340 acres complete with ocean frontage and a private lake. You can host up to 30 guests in 4 buildings, accommodation for 8 support staff, expandable dock, helipad, hmm, did we miss anything. I don't think so. This is a special property that you would love.
Do we have any ballroom dancers in the house? If yes, this might be your dream home. I've been waiting for a Shaugnessy house to make the list. Only number 4. This property is called the "Rosemary Estate". It was named after the daughter of a liquor tycoon, Albert Tulk back in 1918. Would you believe that the property was run by Catholic Nuns for over 50 years.
This property has a history! It also has 20-foot ceilings, a grand staircase of carved oak, and 11 fireplaces if you are feeling chilly. The current owner undertook a multi-million dollar restoration to bring it back to its former glory. If you are a history buff, this might be the home for you.
West Vancouver shows up in our number 5 spot with this beautiful waterfront home in West Vancouver. The home itself is amazing, but it comes with that gorgeous West Van oceanview.
The property itself is 17,100 sq ft and 8800 sq ft of living space. Perfect if you like entertaining with panoramic ocean views from Stanley Park to Vancouver Island. It comes with a heated jet pool, jacuzzi and a fire pit overlooking the ocean. Best of all, the property utilizes geothermal heating, letting the ground take care of your heating needs. Environmentally friendly to boot, that gets two thumbs up from me.
Another West Van property comes in at number 6. The competition is getting very tough. I'm not sure you would ever get me out of that pool. Let me move past that pool for a second. How about that view? This property is designed by famed Architect Russell Hollingsworth. The Architect behind two of the most expensive properties in British Columbia.
This property is a world-class private gated community in Caulfield, West Van. This beauty has 12,626 Sq Ft of property, 6,412 Sq Ft of living space, and 89″ of shoreline. This looks like another home that should be owned by someone who likes to host parties. Hmm, I think I qualify.
This custom home has a theatre room, built-in custom made furnishing, and limestone flooring. Top it off with an environmentally sound geothermal radiant heating in place. Another gem that needs a new owner.
That's three in a row from West Vancouver. Did I tell you that West Van has dropped in value the most of any neighbourhoods in Vancouver, over the last couple of years. What are you waiting for?
I could certainly have fun in that backyard. The pool, the ocean view, do I have to go to work? This waterfront property is 1.57 acres on the West Vann coastline. This Tudor home has 7700 sq ft of living space, a self-contained nanny suite with a 3 car garage.
If you get bored with the house, make your way down to your private beach, beach house with kitchen, washroom and laundry facilities. I wonder if the new owners will let me stay in the beach house?
We come back over to the West Side for Number 8. For $21,500,000 you can have this sprawling property on prestigious Drummond Drive in Point Grey.
If your preference is a large lot, is 1.3 acres enough for you? Beautiful Ocean and Mountain Views and walking distance to the beach, parks, running, and bike trails. Ok, I'm sold.
The house itself has 5 bedrooms and 5 bathrooms. It looks like it will need some TLC, or on this property, you might want to build that dream home that you've been thinking about. Maybe contact Russell Hollingsworth to lend a hand.
We will stay on the West Side for Number 9. How is that for an entrance?
I didn't share with you the view from the upper deck, the indoor pool, the media room, the beautiful gardens, personal elevator, amazing water and mountain views. Hmm, what did I miss?
How about the indoor sauna when you need to relax after that swim. Smart home system, and air conditioning for those hot Vancouver summer days. 30,000 sq ft of land and 10,209 sq ft of living space. Is that enough for you? If yes, let me know.
Just when I was starting to think that nothing could compare with the first 9. Let me introduce number 10 from Whistler. I'm stunned! I could have selected 10 pictures to share with this property. That view. I don't think anything else matters.
From this custom property, enjoy views of Whistler and Blackcomb mountains, lakes, the valley, and I think the world.
This house boasts 10 bedrooms, 11 bathrooms set on 8.2 acres. Yes, that's 8.2 acres. So invite some friends and have a party. Invite the whole neighbourhood. Extensive renovations have been done, if you can pull yourself away from the view.
You can see more information about any of these listings below. The 1 image I shared doesn't do them justice!!
Most Expensive Homes in Vancouver
You might also like the Most Expensive Condos in Vancouver
About the Author: The above article on the 10 Most Expensive Homes for Sale in Vancouver Right Now was written and provided by Regan Pyke, a leader in the field of sales, marketing, and smart home technology. Regan can be reached via email at [email protected] or by phone at 778-228-2448.
Thinking of selling your home? I have a real passion for buying and selling Real Estate, as well as marketing & smart home technology. I'd love to share my expertise!